Everything you should know to become a real player of "Contrée"…
The most difficult part in learning how to play "Contrée" is of course to assimilate the rules … But, since it's done (isn't it?), you can now learn all that makes "Contrée" crisper…
The vocabular of a player of "Contrée"
Some of the following terms aren't restricted to "Contrée", others are only restricted to a particular kind of players…
the Twenty: the Jack of the trump, master of the game, to which all the other cards yield…
the Fourteen: the damned soul of the Twenty, the 9 of the trump, who keeps playing some nasty tricks to imprudent players… Better hold it!
to hold a nth card: means that one holds n cards in the colour of the abovementionned card (including it) ; very useful when talking about Aces or master cards… Any player of "Contrée" will advise you to keep an eye on a third Ace, or worse, on a fourth ten. Just play, you'll quickly understand what I'm trying to explain!
to hold a dry card: to hold a "first" card… Very annoying to hold a dry Fourteen for instance…
to finesse : not to play a card you know is master (typically an Ace) to make more points at the next turn on the colour… Hazardous but sometimes very useful…
a give-points-operation: to lay a card of high value in a trick where your team mate is master to save a maximum of points… Sometimes necessary, sometimes not…
non conventional declaration : typically, the declaration of a player more or less discreet (usually less) and more or less authorized (usually more!!!) to his team mate during the bids… Warning, most of non conventional declarations are standard (ie conventional!!!!!!!).
to start in a pair of shorts : to have really overestimated your game!!!
to start in tanga: to have well smoken your game!!!!!!
to start totally naked: to have hallucinated your game!!!!!!!!!
to small-play : to have a little bit underestimated your game ; the main default of novices!
little-followed of a contract (typically a 80 or a 90 contract…): non conventional declaration very useful to say a little more than what is usually allowed ; helps your team mate understand that the declaration you've just made doesn't lie on conventional roots…
Moreover, if a player makes at a peculiar moment a strange allusion on mosquitos, feelings, windows, or chance (note: for non French people that just don't understand a word in French, these allusions are linked to the names of the colours…) you can say that he's cheating!!! (more exactly, there is a non conventional declaration)
Some tactical advice
Firstly, here is the most simple and most traditional declaration's system:
- 80: the player who makes this declaration holds one of the two master trumps (the Twenty or the Fourteen), usually followed by something like 2 other trumps or 3 depending whether he holds the Twenty or not. In particular, there's no answering (ie rising the contract on the same colour) such a declaration if one doesn't hold the other master trump (the Fourteen or the Twenty) or if one holds it dry…
- 90: the player who makes this declaration holds the two master trumps (the Twenty and the Fourteen), usually a third one, but not a lot of master cards in the other colours. To answer a 90, one has to hold a few trumps (basically 3) and at least an Ace.
- 100: the player who makes this declaration is hardened when it comes to trumps (he holds the first 3 master cards plus one), and is asking for the Aces of his team mate, who can answer by increasing the contract by 10 per Ace he holds in his hand…
Higher declarations can or not have a signification: this is where teamwork starts. What remains the same is that one increases the contract by 10 per Ace for any declaration upper 100! Bids are the main part of the game, one has hence to be fine-tuned with one's team mate on the subject!!! The system described above is anything but official, so the best piece of advice I could give you is to develop your own system (with your team mate of course!)
The rules of behaviour during the game are: for the attackers to control the trumps, ie to have all the trumps of the defense laid on the table as quickly as possible by making trumps' turns. The defense as for it must have the attack cut on small tricks, and must save the maximum of points.
During the unfolding of the game:
- the best would be to count all the cards that have been played, to know exactly where you stand in each colour… Go on Rainman, you can do it!
- it's nevertheless usually sufficient to count the master cards and the trumps…
- but it's absolutely NECESSARY to count the trumps if you can't focus on the 4 colours at a time!!!
You always have to keep in mind that the last trick is worth 10 points, so whatever may occur, you have to take it! Moreover, before to double someone, don't forget that the belote is worth 20 points… And eventually, during a very tightened contract, fill free to finesse, which will prove to be very interesting if you're looking for a good result.
You will be seen as a real player of "Contrée" if you fulfill the two following steps: you always have within reach a deck of 32 playing cards, and you use that type of score's sheet…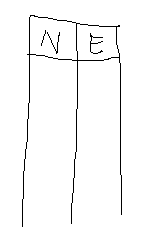 You'll note the score of your own team in the N column (N stands for "Nous" in French, ie Us in English) and the score of the other team in the E column (E stands for "Eux", ie Them). Great, now you've entered the temple of all the players of "Contrée"!!!
Fair play in "Contrée" …
Unlike many games, fair play in "Contrée" is not a fundamental rule!!! In fact, the main point is to find a moderate middle between fair play and bad temper… Basically, when you're with friends, to the extent where it's not too apparent, cheating can be allowed (which explains the importance of non conventional declarations!!!). Moreover, when the tension is at its paroxysm (at the end of a game, when a hand is doubled or when a "capot" is engaged), trying to destabilize your opponent (by throwing him a "you're fat and ugly!" in the face for instance, private joke!!!) isn't to be excluded… Nor can be excluded the possibility to lay your whole hand on the table saying "Now I'm the master, gimme your cards", very pleasurable…
Eventually, keep in mind that "Contrée" is a game that comes from the South: said differently, laziness is the rule… (and I know what I'm talking about, I come from there!). In particular, a main rule to be applied is that the dealing out is tiring and you should always try to have an opponent deal for you (by cutting whereas it's not your turn, for example…), all the more so as it gives your team mate the hand…
Let's summarize: you can use insincerity thriftily with cleverness, just be respectful towards your opponents, else …
---
This page was translated in English by François Daoust: I'm waiting for your comments about it….